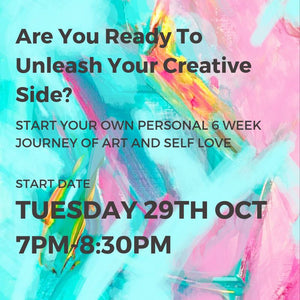 COMPLETED-UNLEASH YOUR CREATIVE SIDE - START DATE TUES 29TH OCT 7PM -8:30PM

Are you ready to unleash your creative side?
Start your own personal journey of Art and Self Love
Power your creative vitality in just 6 weeks.....with international artist and hope and resilience speaker Cat Cronin.
Choose your start date and reserve your place today
TUESDAY 29TH OCT 7PM - 8:30PM
Sessions are weekly and run for 1.5hrs for a 6 week duration.
Arrive 10 mins before start time in comfortable clothes you can move and paint in!
Be ready to ignite a whole lot of self love,have a whole lot of fun, meet other open minded humans:)
Hillarys studio Perth 6025 - address released on booking:)
Limited places available.
ONLY $229 OR BRING A FRIEND $209PP