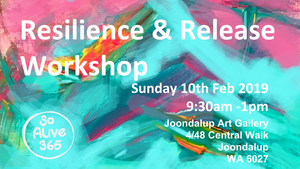 COMPLETED: Resilience and Release Workshop - Sun 10th Feb 2019 - 09:30am to 1pm
Title: Resilience and Release Workshop
Time: Sun 10th Feb 2019 - 09:30am to 1pm
Location: Joondalup Art Gallery, 4/48 Central Walk, Joondalup Western Australia 6027
Directions: click here
During our Resilience and Release workshops myself and the team at So Alive 365 offer individuals and groups the opportunity to practice and learn to incorporate useful Resilience skills, mindful skills and creative practices into daily life.  By building on these skills and utilising creative outlets we give ourselves the opportunity to show up as our best resilient self and live our life Fully Alive 365 whilst enduring life's biggest challenges.
Our aim is to empower all humans with both the practical skills as well as the confidence to embrace our own unique creative energy, so that we can express ourselves completely in all that we do and ultimately Live Fully Alive 365 days a year.
No previous experience necessary.