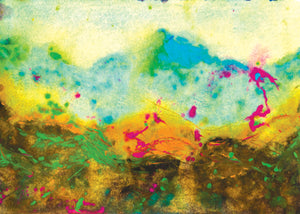 COMPLETED: Flow and Mindfulness Workshop - Tues 18th Sept 2018 12noon-4pm
When: Tues 18th Sept 2018 12-4pm
Where: Kidogo Arthouse, Bathers beach Fremantle
Art and creative resilience skills for aspiring artists/creatives and people that just want to give it all a go and embrace a more creative approach in all aspects of life
In this 2 part workshop we will learn skills to enhance Mindfulness and your Unique Creative Flow
Part 1 We learn some of the daily habits that can help nurture and harness your unique creative energy and practice mindful skills that help you get into your creative flow.
Part 2 we play with releasing and embracing your own true creative energy through mindfulness, painting and intuitive creative expression.
This is a kind, relaxed and friendly environment. I have no doubt we will be incorporating lots of giggles, movement fun and regular breaks which will allow our creativity to flow. To insure everyone is as comfortable as possible throughout the afternoon-let us know of any queries -we will be delighted to help     info@catcronin.com,  or call Cat on  +61479084694
What You Take Home
This fun filled, mindful afternoon will leave you feeling a sense of accomplishment, creative joy and a strengthened sense of self.
You will take home your own unique painting on stretched canvas, some sketches; a basic art kit so that you can continue to unleash your unique creative energy when you get home
You will need
To wear comfortable clothes –that you don't mind getting paint on and an apron if you have one! Please bring a nice warm layer in case you get cold.

If you need a mat or a cushion to help you be comfortable – bring it along

Please bring along any lunch or snacks you would like to eat.

If you have an art kit of you own and would like to become more familiar with – bring it along
We will provide
Tea and coffee and water

All Art and writing materials needed including paint, pencils, canvas, notebook, and drawing paper.
Waiting List
If this workshop is listed as "out of stock" please email me at info@catcronin.com requesting to be put on the waiting list.